There is something I've known for a very long time, and from a very young age. I am weird. For a while I was ashamed and afraid that people would find out just how weird I was so I tried to hide it in many ways. That didn't really work. First of all, my weirdness wasn't easy to conceal. Second, I didn't like who I was when I tried to be someone else to fit in. And honestly, I don't think I really liked the people I was trying to fit in with.
After years of fighting it, I finally gave in to it. And I grew from just finally accepting my weirdness to fully celebrating it. What's more is that I actually really like the other weirdos I meet. I found entire communities of people who like the same weird things I like and who have ways of celebrating their weirdness too. I fell completely in love with many subgenres of geek culture. Mostly the scifi, comic book, and horror realms and their fans. And even more specifically, my fellow creators in these fields, like writers, directors, artists, and cosplayers.
So let's lay down some brief points of my evolution. In my early childhood I liked to play dress up. Mostly, I wanted to be Rainbow Brite and Madonna. I would build big standing microphones out of my Legos, layer on scarves and belts, and strum a fat plastic baseball bat like a guitar and sing. At some point my desire to be on stage took a back seat and I became a super nerd. I just wanted to read. I was always at the top of my class. My interests grew from stories about ballerinas to Nancy Drew. That was about the same time I started crocheting and crafting. In junior high I found my love for art, mostly sketching, and I found Edgar Allan Poe and Ray Bradbury and my life was never the same. In high school my love of horror really kicked in. In college, my first love taught me all about comic books. That was also the time I reclaimed my love for music and started photographing and writing about bands.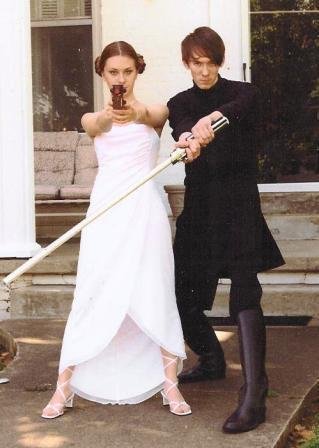 And then I got lost. For a few years. In that place where you try so hard to be almost anybody else that you almost don't escape with any memory of who you really ever were. Those were dark times. Had I not found cosplay and burlesque performance, two things that are amazing both separately and together, and been led back to a world of creating, I might have been gone forever. Metaphorically and/or physically. I struggled with a lot then, so who knows.
I am at my absolute happiest when I am creating. It can be anything at all, but making a costume, a necklace, a story, a character…  These things give me life. I want to celebrate that and support others who do the same. So welcome to my party. I'm your weirdo hostess and I'm glad to have you here with me.